Friday 19th of July: Hello! and Goodbye
The last day of the festival ends with our gala performance.  Let's dance the night away!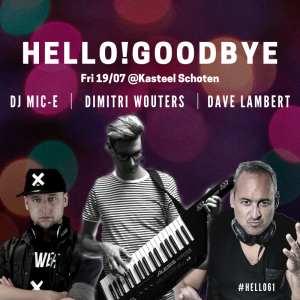 20:00 – 22:20 festive closing show with all participating groups
23:00 – 00:30 – DJ Mic-E | https://vi.be/djmice
DJ Mic-E is no stranger to Hello Schoten, as he was also on Hello!Gooodbye last year, with a tremendous result! We are glad that he is part of our farewell party again!
00:30 – 01:30 – Dave Lambert | www.djdavelambert.com
Dave Lambert is one of the two new names that we can welcome to our festival for the first time. He will ensure that we close this 61st edition like there is no tomorrow! Not unknown to this popular DJ, because he has been on Tomorrowland every year. This year it even takes place during Hello!Goodbye! Especially for Hello!Schoten, he makes this move from Boom to Schoten. We are very grateful that the famous Dave Lambert will play at our favorite festival.
01:30 – 02:30 – Dimitri Wouters |www.dimitriwouters.be
Dimitri Wouters will play the very last records of this 61st edition through our speakers! With a unique mix of DJs and playing his keytar, he will ensure an unforgettable night! Just like Dave Lambert, he is no stranger to the stage of Tomorrowland. He will also make a detour when he travels to Boom. Moreover, Schoten is not unknown to this DJ. You could already see him on Globefest on 29 June!